THIS IS NOT A FANON WIKI. CONTACT ADMIN IF YOU SEE FANON CONTENT
Information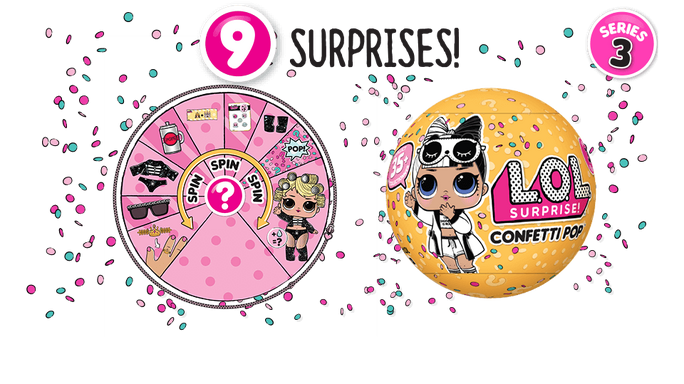 In a world where babies run everything, little Rockers rebel against nap time and Teacher"s Pets become class presidents with "Free Pizza Fridays!" In this world, all work is play and nothing is dull cuz it's all a lil' surprising and outrageous!
From the makers of Lalaloopsy, Num-Noms and Bratz comes L.O.L. Surprise!, the new, fun collectible balls with 7 layers of surprise inside to reveal a hint at which doll you're going to get! In each one, there's a secret emoji message, some collectible stickers, a bottle, a pair of shoes, an outfit, some accessories and a doll with a watery surprise; whether they cry, spit, pee or change colors.
Find them all to complete each club - Dance 💃, Athletic 🏀, Glam 💄, Theater 🎭, Spirit 👧, Glee 🎙, Cosplay 🎩, Glitteratti ✨, Chill Out ⛄, Hip Hop 🎤, Opposites ☯, Retro ⏳, and Storybook 📚. There are over 100 L.O.L. Surprise! dolls to #unbox and #collect!
☀And NEW L.O.L. Surprise! Pets have 7 layers of surprises, each hinting at which pet you're going to get. And that's not all - bathe them for an additional water surprise! 💦 If you want even MORE layers of surprise to unwrap, then check out Confetti Pop with 9 layers ending with a confetti finale! 🎊
Plus on this wikia we have hacks! Down below are pages.
Pages of Interest
Outrageous Rules
This wiki is intended for all ages, please do not upload anything that may be inappropriate.
Please use your best grammar when making edits.
Do not use foul language.
If you see someone harass/bully/annoy other members, be sure to report it!
Do not use curses or slasher violence on this wiki.
Please do not spam comments on a dolls page, you are only told once.
You may not do any fanmade stuff on a dolls page.
Affiliates
if you would like to include your Wiki, please contact an Admin first!