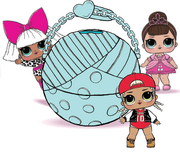 The babies making up the LOL series. These are the original infants to start the brand, with their types based on school clubs, hobbies, and school nicknames.
The colors for series 1 are pastel blue and pink.
Later in the series, 1.2 was released, featuring most of the same dolls while introducing a few unavailable from the first wave; such as Merbaby.
Next series is Series 2.
Athletic
Dance 
Glam
Glee
Spirit
Theater
Opposites
The Glitterati